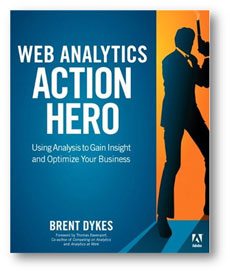 For those of you who know me as the PowerPoint Ninja from this blog, you may be surprised (or disappointed) to learn that my recently published book isn't about PowerPoint or business presentations. In my day job, I work in consulting at Adobe (which acquired Omniture in 2009). Last December, I published my first book, Web Analytics Action Hero
, which focuses on how web analysts and digital marketers can leverage analysis to optimize their online business and become action heroes within their organizations (if that sounds exciting — learn more here).
While my first published book through Adobe Press/Peachpit focuses on web analytics, I do make the point that analysts and marketers need to be able to effectively communicate their optimization recommendations in order for their organizations to act on them. In fact, a significant part of the book's sixth chapter focuses on this topic (you can see where my presentation and web analytics skills intersected). I feel you can have a sharp analytical mind and even a PhD in Statistics, but if you can't communicate your insights effectively you're not going to drive any action. No action, no value.
After writing my first book, I now have a new appreciation for authors and all the work that goes into publishing a book. After devoting a significant chunk of my 2011 to this project, I'm glad it's done and excited that my life can return to being more normal.
Adding a new Twitter account: @AnalyticsHero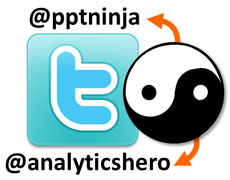 When I originally started blogging and opened my first Twitter account (@pptninja), I primarily focused on announcing new posts for this blog. Then I started blogging for my day job on web analytics topics  at Omniture/Adobe, and I decided to keep the same Twitter account. This approach created a small problem because I now had two sets of followers: people who like my PowerPoint presentation tips and people who work in the web analytics industry. While most web analytics professionals might be interested in my PowerPoint tips, any tweets on analytics wouldn't necessarily appeal to my pure presentation followers.
Anyway, launching my new book has forced my hand to introduce a second Twitter handle @analyticshero that coincides with the book. Therefore, if you originally followed my @pptninja Twitter account for web analytics-related tweets, please switch over to the new @analyticshero handle. If you're interested in PowerPoint goodness, stay with the current @pptninja handle (feel free to follow both). Now that all of my spare time isn't consumed with writing a book, I hope to post more PowerPoint Ninja posts this year than last year.
(Visited 231 times, 1 visits today)