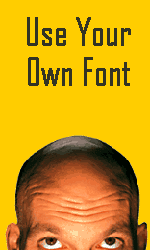 In Seth Godin's article, Nine Steps to PowerPoint Magic, he recommends that presenters buy or download a custom font to use in their PowerPoint presentations. He states, "This is like dressing better or having a nicer business card. It's subtle, but it works."
This good idea could backfire as soon as you share your presentation with someone who doesn't own the same font or if you deliver your presentation on another computer. This article will focus on how you can embed a custom font in a PowerPoint file so that it stays intact for other people to enjoy on their computers.
Step 1 – Find your own font
Seth Godin recommends finding a nice font via one of Smashing Magazine's sponsors. Rather than searching through thousands of fonts on hundreds of font sites (you can spend hours doing this), Smashing Magazine has a couple of useful articles that can simplify your font search:
In order to work within PowerPoint, you need to ensure the font you eventually use is a TrueType font.
Step 2 – Install the font on your computer
It is relatively simple to add a new font to your PC. If you have never installed a new font before, Microsoft has some support articles on the subject:
Step 3 – Embed the custom font in your PowerPoint file
In order to embed the custom font in PowerPoint 2007, start by clicking on the big round Office button at the top-left and then clicking on the "PowerPoint Options" button at the bottom of the menu that appears. Once you have the PowerPoint Options window open, select the Save tab and then check the "Embed fonts in the file" checkbox. You then have the option to include all of the characters (increases the file size) or only the characters used (reduces the file size).
If you're using PowerPoint 2003, you can access the "PowerPoint Options" from the Tools menu on the top menu bar (Tools > Options > Save tab). If embedding a font feels like overkill because you only use a special font in a few places, you can copy the text box and paste it as PNG picture using "Paste Special". This technique will convert the text into a picture so that it stays intact without needing to embed the actual font.
(Visited 13,671 times, 1 visits today)